23rd Annual Sales Conference 2018-19
What else is better than a fete with the presence of BHP Family all together? As one of the fastest growing pharmaceutical companies with remote teams working along, we might miss chances to meet. Hence, Annual Sales Conference is the perfect opportunity for a get-together, and also to show deep appreciation towards employees who had worked their best to provide the company with key values.
23rd Annual Sales Conference was celebrated on Monday, July 22nd 2019 at Pearl Continental Hotel, Lahore, Pakistan. A myriad of celebrations replete with great zest, vibrancy and hues of colors for achieving the Annual Sales target and upgrading the rank among 700 Pharmaceutical Companies with ever increasing market share.
The conference was marked by the gracious presence of Honorable Group Chairman of the company, Dr M S Habib, Group Deputy Chairman Dr Iram Afaq, Managing Director Dr Hasan Tharani, Executive Director Commercial Mr. Saleem Ishrat Hashmi, all the Board Directors and by approximately 1300 Sales and Marketing Team Members.
The conference commenced with the address of our Leader Dynamic Dr M S Habib. He graced the occasion with his words of wisdom and enthralled the participants with his vision for serving Pakistan with best quality education and health. He congratulated the team for making efforts in taking Barrett Hodgson Pakistan beyond billions. He appreciated the efforts of Dr Iram Afaq for putting her soul and for taking long strides in rendering quality education in Pakistan.
Followed by Life Chairman's address, Group Deputy Chairman Dr Iram Afaq shared her valuable insights on this memorable occasion. She appreciated the continuous hard work and determination on everybody's part towards the attainment of this milestone achievement. She fascinated the participants with her motivational key message.
Expressing her jubilance in the prosperity of education, she said that The Salim Habib Education Foundation is head over heels to ensure that they give back to the deprived nation with quality education and health facilities,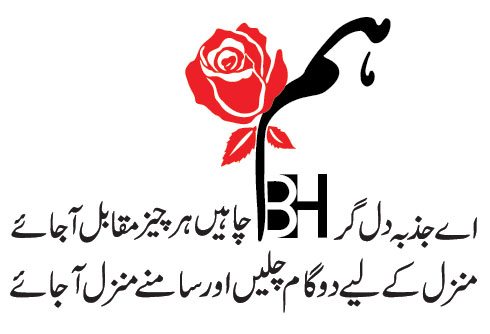 even in the remote areas, and updated the participants on the successful project of Barrett Hodgson University and the forthcoming projects in Toba Tek Singh.
The speech was followed by a tribute to BHP family by a corporate video, that was launched on the occasion, with a brief throwback on outstanding performance, milestones and landmarks of achievement, and encompassed the entire BHP journey "From Millions to Billions and which continues".
The end of the conference came off with honoring excellent individuals of the year from Sales, Marketing and other departments. Surely, these BHP family members were inspirational themselves, as they had been the perfect representative of BHP, displaying features that every BHP family members should have.
The enchanting evening was marked with the cake cutting ceremony for the launching of new division NCD-N, along with welcoming the new BHP family members. The Conference concluded with a scrumptious Gala Dinner followed by musical event. The Gala night was heated to its highest spirit when our Sales Team performed, which proved how talented our family members are for not only working their best but also performing and showing us the talents that they all have got. It was well worth the wait that the night was blown up like a boom of amusement.
Unfortunately, every festivity has its end and we all knew it was time to wrap up, even though we wished it could last till dawn.